How To Improve The Quality Of Your Care
– By Dr Nav Ropra.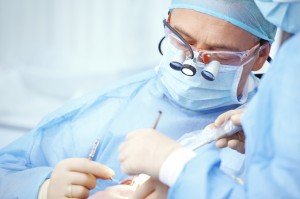 It is often commented that physicians should treat the patient as 'if they were their own family or friends.'  Do you agree with this statement?  What if you dislike your family or friends?  How should one treat the patient then?
One alternative would be to treat your patients as if they were the most important person in the world.  Let that be a benchmark in your treatment and watch how your practice changes.
Standards in practice are very subjective.  What is deemed as best practice for one physician may not be to another as it all depends on their hierarchy of values.  In my experience, physicians who focus on the ever finer details in their dental procedures have a greater chance of the dental treatment working and the physician being successful in practice.  This is because the care of their patients is so important to them.  The clinical process is mapped out in fine detail before the patient has even arrived at the practice and everything up to their 6 month review and beyond is taken into consideration.
'…the most important person in the world.'
It took me a considerable period of time to finely map out the patient journey in so much detail to ensure that every single action was documented.  In this process of self audit over literally thousands of patients, I had a clear road map of what worked for me and what did not work for me in practice.  I documented absolutely everything I did and said so that I could maximise the quality of care I was giving to my patients. Examples included my posture, tone of voice, answers to questions, statistics, data on my treatment outcomes, how I was feeling throughout the day, the behaviour of my staff and how all this impacted on my care.
'This is because the care of their patients is so important to them.' 
Carrying out these real-time daily audits will help you become aware of your practicing profile and what your strengths and weaknesses are.  You will be in a better position to understand what you need to focus on, how to improve your practice, what you are good at and what you could be delegating to others.
For me, quality dental care is not only the treatment procedure and outcomes.  It is about ensuring that the whole process for the patient as well as the practice is regulated and runs according to recognisable parameters.  After documenting many patients' outcomes, you will know what to expect and as your certainty around procedures develops, those cases which do not fit into your expectations will need more care and attention.  Understand where you may have gone off track and why.  Put contingencies in place so that it does not happen again.  Learn new techniques from reputable sources and have a mentor to help you talk about and implement your learning to help you grow a quality practice.
'For me, quality dental care is not only the treatment procedure and outcomes.'
A quality practice is not looking for a quick fix to solve problems.  A quality practice is about having the wisdom and long term vision to stay present and focused in the marketplace, to be flexible and be adaptable to changing conditions and regulatory requirements.  It has the balance of quality service to patients as well as receiving fees in line with the value the team places on itself.  It is the coming together of all members of the team, united with one common purpose.  Staff members must find fulfilment in serving and get rewarded for that service.  It is about having the strength and humbleness to communicate with others when expectations have not been met.
In the words of Henry Ford;
"Coming together is a beginning; keeping together is progress; working together is success."