Dr Ropra is available for talks on the following topics.  If you would like Dr Ropra to speak at your event, please contact us for a media pack.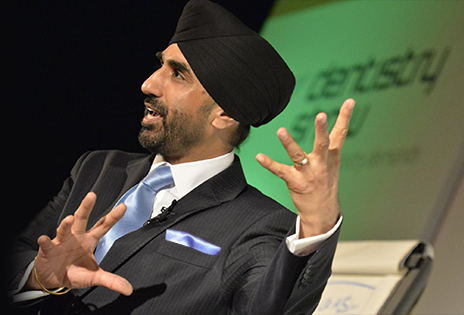 Relationships & Dentistry
What's most important to you, your partner, your staff, and your patients?
This talk explains the following:
The driving forces behind relationships
How your 'voids' drive your 'values'
Value systems – how each one of us are unique individuals
Finding out what are your highest values are
How knowing what you value and others value affects communication
Managing the relationship you have with yourself and your practice
Why relationships either work or don't work in dentistry
Leadership & Dentistry
Do you consider yourself a great dentist but a poor leader?
This talk explains the following:
Key issues which stop us from growing in leadership in practice
The components of a great leader
How to ask for support from your staff without being frightened
How to align your practice so that your team is congruent
Solutions to everyday problems from 'difficult patients' to 'managing volatility'
Having certainty in practice
How to leave the practice grateful at the end of the day
Dental Mastery
No matter what happens, are you the Master of your life?
This talk explains the following:
How to balance 'being' a dentist, 'doing' dentistry and 'having' fulfillment
Dealing with the frustrations of not knowing your true worth
How 'narcissism' and 'altruism' affect fair exchange in dental practice
Giving and receiving are needed to have a grateful practice
How to deal with fear and guilt in practice
How to improve your skill set
Understanding feedback that staff, patients and the practice gives
How to find your purpose
What were the reasons for you wanting to be a dentist?
This talk explains the following:
Why it's important to know your purpose in life and to have a mission
How sustainability is achieved when you have a big enough reason
Dealing with the supports and challenges of dentistry
Useful tips for newly qualified dentists / those wanting to change
Understanding the fundamental issue of being a dentist – THE WHY!
Hiring and Firing of Staff
Are you having frustrations with your staff members?
This talk explains the following:
Why your practice needs its functions mapped out
Ensuring that you have clear defined job descriptions
How to hire the right member of staff at interview level
How to deal with uninspired members of staff
Preventing hidden agendas in communication and dealing with staff
Keeping the staff you have – 'firing them up instead of firing them out'
The 'What's in it for me?' factor is discussed
The support & challenges in Dentistry
Are you having difficulty in staying focused in practice?
This talk explains the following:
How humans react when supported or challenged
Principles of dealing with volatility in the dental practice
Managing your perceptions when things are not going your way
The healing potential; creating and manifesting things
Touches topics from psychology, physiology, quantum physics to astronomy
The mind-body connection and how our perceptions affect our health.
The business of Dentistry
Are you struggling to deal with your practice responsibilities?
This talk explains the following:
Increasing income – How it increases responsibilities and accountabilities
Principles of wealth creation that have stood the test of time
Growing to the next level in your practice
Managing your emotions around money
How money and self worth are related
Stratergies for ensuring you leave a legacy